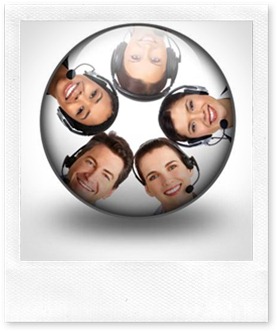 It's tough out there. Customers are more demanding and the amount of competition is increasing, so delivering a great customer service is even more important today. Providing an excellent service time and again they can rely on is the best way to encourage customer loyalty. So what's the best way to ensure your company always delivers?
Well, here's our 4 step guide to great customer service:
1. Be interested
Always show an interest in your customers business. Find out what their expectations are. If it's your first visit make sure you find out exactly why they've called you in. If it is a routine visit, make sure you constantly revisit the customer goals to make sure you are on track.
Quite often customers need guidance, advice, a solution or reassurance that you can help them with an appropriate solution. More importantly, they'll want to know you will be there for them when they need you.
2. Be happy to be there
That might sound a bit odd and we all have customers who rub us the wrong way but, no matter who they are, you have to want to be there and remain focused on delivering a great service – even when things don't go well. If you turn up wishing you were somewhere else, the customer will pick up on it which could make the situation a whole lot worse.
Sometimes you may not have the answer (you can't possibly know everything) which is why having a good helpdesk you can rely on in an emergency is worth its weight in gold.
3. Fulfil your promises
If you say you'll do something at a certain time by ringing or visiting your customer, make sure you do it. If you promise a third part will contact your customer directly, make sure they do by chasing them up and finding out what happened.
In a nutshell, treat your customers how you would like to be treated yourself.
4. Find a safe pair of hands
If you are a small company offering a big service, you will need a break from time to time. So finding a third party you can entrust your company's welfare too is essential. Vet them to ensure they have the same customer service standards as you. That way you can take a break safe in the knowledge that everything is being taken care of and there'll be no nasty surprises when you return.
When you do return to work, meet with your third party supplier to get a full breakdown of what happened in your absence so, next time you are called to a customer for a site visit, you are fully informed of what's happened.
So, if you want to increase customer loyalty you need to:
Find out their needs
Make time to listen
Take care in solving their problems/concerns by providing an efficient service
Have a good backup service in the even of annual office closure
MPM Computer Consultancy offers IT services and training to sole traders and small businesses based in Ipswich, Bury St Edmunds and surrounding villages. They won the 'Exceptional Customer Services Award 2009' for Best of Bury St Edmunds.