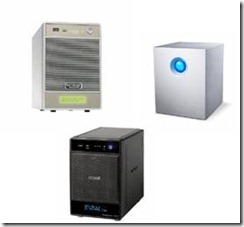 We all know the benefits of backing-up our computer files.
Whether you opt for an external hard drive, USB stick, or other method, it pays to have your documents, pictures and music backed up in case of computer failure.
But there is a way of backing up all your family's files so anyone in your household can access the files.
An external hard drive will allow you to backup the files from the PC it is attached to. But a NAS (Network Attached Storage) Drive plugs directly into a computer network. This therefore allows other devices on the network to access the information stored on the drive.
Because all your PCs, laptops, games consoles, televisions, media players and sound systems can all access it, the NAS Drive is becoming increasingly popular with home users. Plus many NAS Drives come with built in RAID which allows a number of discs to appear as one. Therefore if one of the disks fails it can continue to operate. Once the faulty disk is replaces, the drive is immediately back to full status without any loss of data.
4 reasons to try a NAS Drive
1. Shared storage
Because a NAS Drive connects to the network (unlike a conventional USB drive), it is simultaneously accessible through all connected Mac and Window computers. Therefore anyone in your network has access to the data.
2. Access anywhere
You can even access the content anywhere over the internet. If you have a broadband internet connection and home router, your NAS Drive can easily be configured to provide secure access to its stored files remotely via the internet.
3. Optional 'spare' hard drive
To add an extra layer of safety, an optional second hard disk drive can also be installed. Should the worse happen and the first hard drive fails, the second retains an extra copy of all your data and instantly takes over.
4. Supports most file types
Utilising advanced media streaming support, a NAS Drive can directly serve media (with no PC required) to devices such as Sonos® Digital Music System, Logitech SqueezeboxTM , Apple iTunes®, Sony Playstation® and Xbox 360®.
Therefore the NAS Drive offers a great alternative to traditional external hard drives. Its greater flexibility enables all network users to access the same data anywhere in a safe and secure environment.
Author: MPM Computer Consultancy provides IT Services, Support and Training to sole traders and small businesses in Ipswich. Bury St Edmunds and surrounding villages.