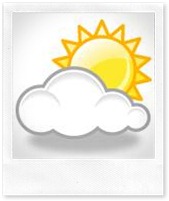 Cloud computing gives you a way of managing your data, hardware and software needs by using resources on the internet. all your documents, emails, business applications etc., are stored online 'in the cloud'.
The major benefit of this is that everything is accessible from any computer or mobile device with an internet connection and web browser.
How cloud computing works
Cloud computing is made up of 3 elements:
Large-scale data centres hosted on remote servers
Services (e.g. software and hardware resources provided over the internet)
Low-cost, web-enables devices (e.g. smart phones, laptops and netbooks)
Therefore businesses of all sizes can benefit from this method of data management. Plus with todays agile working practices, businesses can use smaller, lower-cost portable devices such as smart phones and netbooks that support more mobile and remote working practices.
There are 3 man cloud computing services available:
Software as a service (SaaS)
This is the most common form of cloud computing used by small businesses. It involves using software hosted on remote servers and allows you to run applications through your web browser and save, retrieve or share files stored 'outside' your business.
SaaS include office software, CRM systems, and tools for collaborative working which provide greater flexibility allowing you to scale your IT requirements quickly and easily depending on your business needs.
Infrastructure as a service (IaaS)
This allows businesses to use virtual hardware resources to build their IT infrastructure. This includes server space, data storage facilities and networking hardware. By outsourcing your hardware requirements in this way you can reduce your IT costs as you no longer need to buy it or have the internal expertise to maintain it.
Platform as a service (PaaS)
This involves using online application development capabilities to build and adapt applications to suit your business needs using software development tools and hardware known as 'cloudware'.
What are the benefits of cloud computing?
In comparison to more traditional approaches, cloud computing has a number of benefits:
Reduced IT costs – you don't need to install and set up software, you can reduce your hardware/software needs, and you'll reduce your operational costs as you no longer require in-house technical expertise.
Scalability of service.
Access to new technology – upgrades are managed by your service provider on your behalf.
Flexible working practices – documents etc., can be accessed anywhere.
Enterprise level back-up.
Environment factors – a more environmentally friendly approach to your IT requirements.
Data protection and cloud computing
With cloud computing the main data protection risks for your business are:
Loss of data by third-party service providers
Unauthorised access to your data
Malicious activities targeting your service provider (e.g. hacking or viruses)
Poor internal IT security compromising data protection
A risk assessment of these potential hazards and their impact on your business should be undertaken before introducing a cloud computing system.
Don't forget, as a UK business you must comply with the Data Protection Act when holding personal data about third parties.
As cloud computing applications require high levels of data protection you should check your contract or service level agreement (SLA) to find out what security measures your provider takes to protect your data and the levels of responsibility the provider will take for security, functionality and continuity of service. You also need to know if there are any provisions for compensation in the event of a security breach.