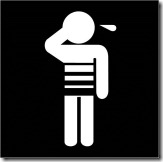 It can happen to the best of us.
Lost data is inconvenient, annoying and can be down right expensive.
So how can you made sure you don't fall foul of the data gremlins that love to cause chaos?
Well, before we get to that, here are a few sobering statistics to think about:
60% of businesses close down within 6 months of losing their data
You could be fined up to £500,000 under the amended Data Protection Act if you're found to have recklessly lost confidential data
45% of business still have insufficient back-up procedures in place to protect their data
Sounds scary when you look at it like that, doesn't it?
If you are one of the 45% read on (in fact even if you think you have sufficient procedures in place it would be a good idea to keep reading) because this blog post could save you time, money and your reputation.
9 Ways to reduce the risk of losing your data
1. Back-up system
We'll start with the most obvious. If you don't already have one, set up a back-up system both on and off site. You also need to test them regularly and should consider having a disaster recovery package.
By having an off site back-up you'll help protect yourself from possible disasters such as fire or burglary.
2. Maintain your network
Set yourself up an early warning system. Using anti virus and keeping your patches up to date will help you maintain your network and hardware. This will help show up any devices that could potentially cause problems before they arise.
3. Keep an eye on your data
Understanding what data you store, where it's stored and who has access to it will help you make sure it's safe at all times. You should also regularly review your IT risk assessment and IT security policy.
4. Keep it secret
Wireless networks can run the risk of being hacked into because you don't need a physical connection to access the data. To boost your security use a complicated password or hide the name of the network to stop potential intruders being aware of its existence.
5. USB
It's a good idea to restrict the usage of USB memory sticks. This will prevent data being copied to unsecure devices and so reduce the risk of malware being introduced to your network.
6. Encrypt
If you have data going off site make sure it's encrypted. You should also secure remote access to prevent data being stolen from mobile hardware.
7. Training
Make sure all your staff are trained in the importance of IT security (such as the use of passwords) and give them their own space on the service to save their documents.
8. Be up to date
Keep your asset register and user accounts up to date.
9. Keep it clean
Wipe data before disposing of old hardware or make sure recyclers do this for you.
By following these simple steps you will help prevent your company becoming yet another statistic.