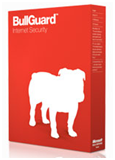 Ensuring your computer is safe from viruses should always be at the forefront of your mind.
Surfing the net should be a fun and safe experience but there are a number of 'sharks' lurking out there just waiting to spoil your day.
If your computer becomes infected there's a good chance you could lose data, lose money or even lose your identity.
Identity theft, credit card fraud, hackers, spam, virus' and spyware could become a reality if you don't surf safely.
Take the Bull by the horns
With so many products available how do you decide which one is right for you?
Well, here's the low down on one product that might just be what you've been searching for.
Bullguard Internet Security 10 Suite is a complete solution that will protect you from all these threats.
By installing it on your computer you can safely email, shop and bank in confidence. Plus, with Bullguard's 5 GB of online backup, your photos and music are kept safe and sound regardless of whether anything happens to your computer.
It offers:
Antivirus protection
Antispyware
Firewall
Spam filter
Secure, online backup
Gamed mode to offer fast but safe gaming with minimal resource consumption
Free 24/7 support
With virus protection, a firewall, spam filter and 24/7 support, Bullguard offers you the protection you need.