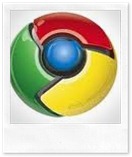 What's your browsing preference?
Are you a Firefox devotee or do you prefer the good old fashioned Internet Explorer?
Whichever rocks your world, maybe it's time to consider a change. What about the (not so) new kid on the block?
Google Chrome
Those of you of a certain age may be forgiven for thinking the image above is of that really annoying but highly addictive Simon electronic game.
But no – welcome to Google Chrome.
When it was first launched, Google Chrome didn't make huge waves. Yes it was very fast but it didn't offer the user many features.
Well two and a bit years on and Chrome has come of age. It has added features such as foreign language page translation and web apps – but it hasn't slowed down so it still out performs Firefox and Explorer.
One of the best features of the latest version (10) is the refinement of Google's instant search. Now, Chrome predicts what site you want to visit and loads the page as you type the URL. Admittedly that can be a bit freaky the first few times you use it but it really is pretty cool.
But one the best things about Chrome is its apps. There are free and paid ones available and range of simple bookmarks to applications such as Tweetdeck.
If you haven't dabbled in Chrome yet, have a go. Once you're used to it you'll probably never want to go back to your old browser again.