These days there are a whole host of phishing emails doing the rounds and now there's a new one about.
A recent post on PCPro.co.uk warns of the latest scam to hit our in boxes. Just days after the UK Government outlined plans to introduce the Digital Economy Act (DEA), aimed at online piracy, phishing emails demanding money for breaches of copyright began doing the rounds.
The Government intends to send at least 3 warning letters to people deemed to be downloading copyright material, but these emails demand immediate payment.
An example of one of these emails was published by Becky Hogge, a writer and technologist who previously headed up the Open Rights Group.
The Open Rights Group published the full text of the email, which is riddled with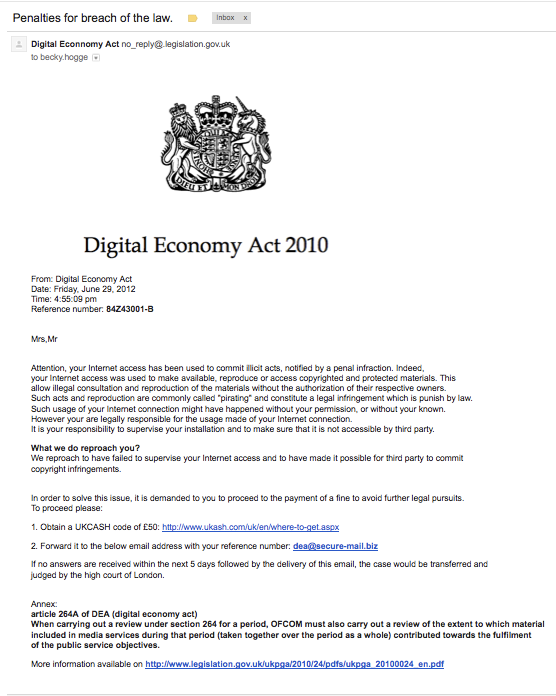 grammatical mistakes, but designed to look like an official letter. It stated:
"Such usage of your internet connection might have happened without your permission. However, your[sic] are legally responsible for the usage made of your internet connection…It is your responsibility to supervise your installation and to make sure that it is not accessible by third party."
Remain vigilant
Sadly, there will always be people out there looking to make a quick buck by sending out this type of email.
To keep yourself safe, remain vigilant at all times and if something seems a bit phishy it probably is.
Remember:
Never click on a link in an email from a source you're not sure about
Never open an attachment unless you know the sender or are expecting it
If you get an email demanding money, do some Google digging, don't send it
If you're unsure, search for company details online and make contact by phone or email – don't phone the number listed or reply directly to the email