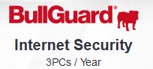 We always recommend BullGuard Internet Security to our clients, which inevitably means they ask why.
That's why we decided to write this post so we could give you the low down on why we think it's the best product on the market.
For starters, in January this year UK consumer champion Which? endorsed BullGuard Internet Security 2016 with a Which? 'Best Buy'.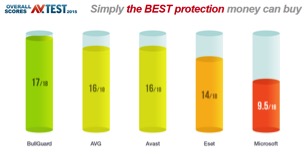 On top of that, it also offers you all of this:
It's simple to install and easy to use.
BullGuard installs in minutes. Its intuitive layout makes it simple for you to run a quick scan, adjust protection levels, back up your files, customise your settings and more. Everything is just one click from the main BullGuard home screen.
Malware and Spyware Protection
The latest version of Antivirus includes Behavioural Detection, which spots new viruses by how they act on your computer. Together with Signature-based Detection, which deals with known malware, they make up a multi-layered defence system for PC that's virtually impenetrable.
Safe Browsing
Some websites have malicious code hidden in them. Or they are used to launch phishing attacks. The BullGuard protection software checks the websites that come up in your searches and lets you know which ones are safe.
Stop unwanted applications take control
Some programmes contain adware, they install toolbars and modify your system settings. They're not malicious like trojans or worms but they can change your browser settings, alter your home page and direct you to another search engine by default. BullGuard's unwanted app tool flags up these programmes and stops them from changing your settings.
Advanced Backup
There is a whopping 5GB of FREE online storage included so you can keep your important data, photos, music and more safe. You can choose what you want to back up and how often, or just set the feature to auto backup. You can even back up content directly from folders with one click. Plus your back-up data is easily accessible whenever you want to view it or restore it to another computer or even your smart phone.
Firewall
This is your first line of defence against unwanted hackers and identity thieves. The firewall protects you against network attacks and prevents cyber crooks from entering your system.
Spam filter
BullGuard Spamfilter keeps out junk mail and email scams, like phishing attempts, virus spreading and foreign language spam. You can also customize filters to block emails you don't want to receive.
PC Tune Up
You'll never have to wait again to get your computer up and running. BullGuard's PC Tune Up removes unnecessary files and frees up memory so your computer runs faster
Vulnerability Scanner
Checks your computer for out-dated software that hackers and viruses can exploit to gain access to your system, damage it or steal personal information. Once this software is flagged up it can then be removed.
Free 24/7 support
The BullGuard support team is there for you 24/7, providing expert advice and quick answers to your questions.
As you can see, it's a pretty comprehensive internet security package. If you want to learn more give us a call. 
MPM Computer Consultancy provides IT Services, Support and Training to sole traders and small businesses in Ipswich. Bury St Edmunds and surrounding villages.
Source: BullGuard