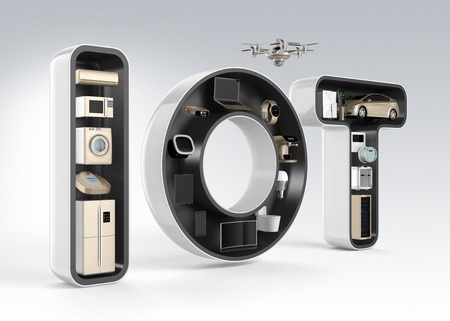 You've probably heard of the Internet of Things (IoT) – the network of physical devices, vehicles, buildings and other items that use software, sensors and network connectivity to collect and exchange data. Well, by 2020, it's estimated that there will be between 20 and 30 billion connected devices on the planet.
Just like your PC, your smart devices need protecting from hackers, which is why we want to tell you about BullGuard's IoT Scanner.
It's the world's first IoT Scanner and you can use it for free. We'll tell you how in a bit.
What is the IoT Scanner?
It is a web-based application that scans the Shodan website for smart connected devices.
Connected devices whether they are smart TVs, media hubs, thermostats, coffee makers, garage doors, webcams, or baby monitors (there are loads more) often have a web interface through which they are controlled.
Many IoT devices are based on Wi-Fi technology to link them together, as well as connecting them to wireless access points that in turn connect to the web.
Shodan is basically a search engine, but rather than find web pages it identifies devices that are connected to the internet.
That's all well and good, but what does BullGuard's free IoT Scanner do?
Well, it will tell you if your smart device (e.g. smart TV) has been detected by Shodan.
If it has, its listing will also show loads of technical information about it, including how it is connected to the internet. That means it could be vulnerable to hackers.
Unfortunately security on IoT devices is poor and setting them up can be complex. But that's not their only vulnerability; there are others such as an insecure web interface, insufficient user authentication or poor security configuration.
One of the most dangerous vulnerabilities is an open port (a port is the means by which one computer talks to another). Hackers can identify them and use them like an open door to enter your device and take control of it. If it is configured on your network, they could enter it without you knowing about it.
If the BullGuard IoT scanner finds your device on the Shodan search engine it will let you know if you have an open port and therefore vulnerable to hacking so you take the necessary action to protect yourself.
BullGard free IoT Scanner
So far we've told you why you need to use it, so now we'll tell you how.
As already mentioned, BullGuard's IoT Scanner is free to use and you can find it here. All you have to do is check whether your internet devices appear on Shodan.
MPM Computer Consultancy provides IT Services, Support and Training to sole traders and small businesses in Ipswich. Bury St Edmunds and surrounding villages.