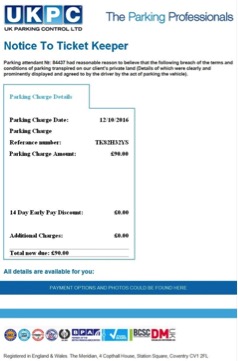 No one likes getting a parking ticket. They are one of life's annoying things that tend to crop up when you least expect them.
What happens if you get one you weren't expecting? Do you just pay up because it must have happened?
No.
The latest scam from internet fraudsters could see you paying a fine that doesn't exist.
This phishing scam involves random emails with parking tickets. The email looks as though it comes from the UKPC, or UK Parking Control. You can't miss them because they generally come with the headline: 'Notice to Ticket Keeper' or 'Reminder to Ticket Keeper'.
This is followed by a bit of official looking text that claims a parking attendant has reason to believe that you parked on a client's private land. It then gives you a bill complete with fake date, a fake reference number and a fake parking charge amount of £90.
Unlike other scams, this one looks very official and isn't dotted with the usual tell-tale spelling mistakes. You can see what it looks like above.
If you click on the link that says 'payment options and photos' at the bottom you'll either unleash a tonne of malware, or you could end up losing £90 to a non-existent fine. Or worse you could end up with both.
The beauty of this scheme (from the scammers' point of view) is that it relies on the victim to provide the urgency. Most people follow up straight away and pay without asking any questions. However, before acting it's worth doing a bit of simple checking.
It's easy to check whether your fine is genuine. According to the UKPC's official website, they do not send Parking Charges by email; so if you get one, send it straight to junk.
If you're reading this too late and you've already had one of these emails, run a malware scan on your computer immediately.
MPM Computer Consultancy provides IT Services, Support and Training to sole traders and small businesses in Ipswich. Bury St Edmunds and surrounding villages.
Source: Transcedit