As a follower of our blog you would have read several posts about the Better Broadband for Suffolk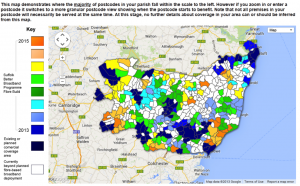 campaign.
It is expected that, by 2015, all premises in Suffolk will have at least 2Mbps with 90% being served by fibre and 85% getting over 24Mbps.
It's all well and good reading about the promises, but when will you actually get this new faster broadband service?
To find out, head over to our website and take a look at the broadband internet providers page and click on the Better Broadband for Suffolk logo. This will take you to their website where you can find what progress is happening in your area of Suffolk.
Once on the site, at the bottom of the page click on "Click to show coverage in your area" and you'll be shown a map indicating when Better Broadband is due to arrive in your area. The dates shown are an approximation of the roll out timetable so may change.
To get started all you have to do is enter your post code.