Installing software should be a simple and risk-free activity, but you know that's not the case. If it were, you wouldn't be reading this.
A lot of software installers include various options making it confusing as to what you need and don't need. My best advice is to always go for the custom installation option so you can deselect anything that's not familiar to you. Of course, hopefully it goes without saying that you should never install software you don't fully trust.
Anyway, getting back to the point – have you seen a prompt recently that tells you to "Please install Flash Player Update (Recommended)"? They look like this: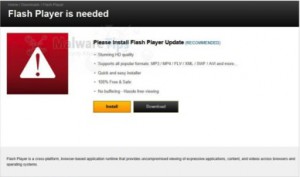 It doesn't matter which web browser you use, these little suckers will still pop up if you land on a website that's either malicious, or legitimate but compromised. If you do see one, there's a chance your computer may be infected with adware or other potentially unwanted programmes.
What does it do?
Well, their sole purpose it to make money. They generate web traffic and collect sales leads for other dodgy sites by displaying advertisements and sponsored links in your web browser.
If you click on the download link or install button, rather than installing an update you're agreeing to download an adware or malicious programme into your computer. This could leave you with unwanted things like toolbars (e.g. Sweet-Page, AwesomeHP), adware (e.g. EnhanceTronic, Feven 1.8, CouponBuddy) or other forms of malware.
So remember,
Only download software you trust
Always go for the custom installation
If in doubt don't click!