We know what you're thinking, as IT support is a service we provide we're bound to be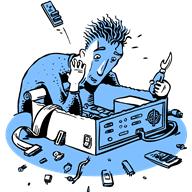 ever so slightly biased when it comes to extolling the virtues of an IT support contract.
OK, that's probably true, but if it wasn't a vital business service we wouldn't provide it.
You see, outsourcing to a good IT support company will help you:
Maximise efficiencies
Maximise your up time
Reduce your costs
Leave you free to do what you do best – sell!
But there are some people out there who don't feel IT issues are important enough to work into their budget.
Really?
How about these for some sobering statistics?
UK businesses are losing 300,000 hours and £2 billion a year through IT downtime
By the time the issue is fixed, the average business will lose £208,000 a year in lost revenue
UK organisations suffer on average 27 hours of IT downtime a year
Have you got room in your budget now?
Admittedly, not everyone needs an on-going support contract. But building a relationship with a local and reliable IT support company will save your business a lot of money. Whether it's a regular maintenance contract or ad-hoc support the peace of mind you'll have knowing there is an expert at hand to get you back up and running will be priceless.
Don't wait until the unthinkable happens, get some support in place now so you're ready for every eventuality.