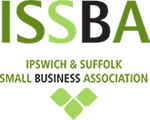 It's not often we blow our own trumpet, but this month we just had to.
MPM IT has been announced as ISSBA (Ipswich & Suffolk Small Business Association) member of the month. It's a huge honour for us and as such we'd like to say a few words.
MPM IT is an IT company with a difference. We don't directly sell. Our company is solely based on customer service. With excellent customer service we have maintained and grown our customer base generally through customer referrals. MPM IT looks after you regardless – and it's all done in byte sized chunks.
At MPM IT we have always been consistent in what services we offer to our customers, we have always maintained a local area to enable swift responses for support and we only use local trades people when required.
If you're a sole trader or micro business and operate within a 20 mile radius of the Stowmarket area, we can support you. All work is carried out on your premises at a time and duration to suit you. What could be better than that?
You may think, "I'm not sure I need regular maintenance", but you've had a few IT headaches recently – nothing serious, but enough to make you think.
Although you're up to your eyeballs, you're smart enough to know that you have to take care of your company's IT, so you give MPM IT a call.
After completing their audit, you receive a plain English report outlining things like what hardware you have, how old it is, what software it's running, whether your licences are up to date and any other IT related issues that may need attention.
At the end of the report is a list of recommendations about how to improve your general IT performance to give you peace of mind. which MPM IT can carry out for you.
What do you do next?
Let's assume you read it, but don't action anything. After all, it's not that urgent, is it?
The problem is a week or two down the line, disaster strikes.
You have a hardware breakdown, or worse the dreaded BSOD (blue screen of death). Or you could experience a software issue that needs fixing ASAP.
It's a nightmare – you have no working computer, no access to your data, no emails, no internet – you have no business.
However, if you had asked MPM IT to carry out the recommendations listed in their report all of this could have been avoided.
For a very reasonable fee, your business would now be running like clockwork. You would have peace of mind knowing that:
Your data is protected and backed up
There is a contingency plan in place should a breakdown occur
Your machines are looked after and cleaned regularly
It's this local, high touch service that our clients love and that has been recognised by ISSBA. We just want to take this opportunity to thank all our clients for their continued support.
MPM Computer Consultancy provides IT Services, Support and Training to sole traders and small businesses in Ipswich. Bury St Edmunds and surrounding villages.