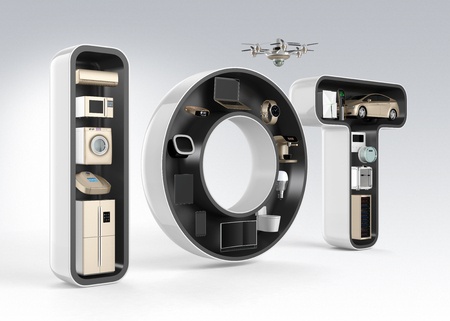 Things are changing. The Internet of Things is here.
It wasn't that long ago that smartphones, the Internet and social media all seemed very futuristic. Now, it's hard to imagine life without them.
With that in mind, the arrival of connected devices and the Internet of Things (IoT) shouldn't seem so far fetched.
A recent article published by BullGuard takes a candid look at what the IoT means to our lives and how it will manifest itself in the future.
This post will take a look at its impact on the home and travel; next week we'll look at its impact on a larger scale and the potential issues surrounding it.
IoT is already taking shape with billions of smart devices becoming part of the globally connected network thanks to embedded connectivity in consumer electronic devices, home appliances and cars.
But this is only the first tranche; predictions vary, but there seems to be a consensus that by 2020 there will be in the region of 20 billion connected devices in place, ranging from home electronics to vehicles, industrial machines, infrastructure such as water and power, and wearables.
Let's take a look at how IoT is predicted to play out practically across a range of common areas. But first keep in mind that a lot of these IoT devices have already moved from the drawing board into production, and it's just a matter of time before they become mainstream.
IoT in the home
The home is going to be one of the most visible areas where we will see embedded IoT.
It can be used virtually anywhere, and what follows is a taster of how it could impact (or is already impacting) your life:
Smart thermostats will learn about how you use energy in the home allowing you to control appliances from your phone potentially making savings of up to 20% on energy bills
Sofas will be touch adjusted for temperature, firmness and angle based on your specifications
Personalised TV recommendations using voice commands and fingerprint touch identification
Sinks that will be operated by voice commands that adjust water temperatures for specific tasks, save water by tracking usage, with wastewater being recycled for use in the home
Ovens will be able to set themselves and monitor temperatures while fridges will includes inventory control and temperature gauges
Sound systems will play different music in different rooms depending on the person in the room and also know what volume levels to set
Beds will track movement and through integration with a thermostat adjust temperatures for the best sleep
Lights will be on timers that dim and get brighter depending on the time of day. You will be able to control the lights through your phone or voice, and the lighting will help you gently wake up in the morning
Smart connected cars
Autonomous self-driving cars are already on their way, although it's early days. But we already have 'driver assistance' technologies that can improve or take over the actual performance of the car, such as systems that automatically park a car in tight spots, autonomously steer the car, brake for obstructions, and speed up and slow-down in traffic jams.
That all sounds quite scary, so a raft of safety technologies will be incorporated including external danger warnings for drivers such as severe weather and hazardous road conditions ahead. There will also be electronic windshields that automatically adjust to shield the sun's glare.
A prominent feature will be in-car displays that stream messages and news and automatically interrupt when someone calls you, displaying an image of that person.
Concierge features will also alert drivers about the time to leave and arrival time. This same feature will send text message alerts to friends or business associates to let them know your arrival time.
Reading this as I write, it all sounds so far fetched and yet it will probably all happen within a few years.
Our world is changing and we are going to have to adapt and embrace these changes if we are to keep up.
Next week, it's the turn of our buildings and cities as we explore how IoT will affect them.
MPM Computer Consultancy provides IT Services, Support and Training to sole traders and small businesses in Ipswich. Bury St Edmunds and surrounding villages.