Just about everyone has experienced interference on their WiFi. Drop outs are becoming more and more frequent simply because the 2.4GHz frequency band is so congested.
A recent article in PC Pro explored this phenomenon using some rather nifty visual aids.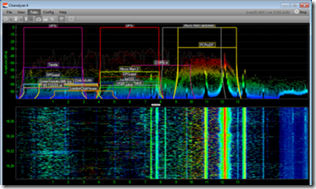 The above image shows an analysis of all the radio frequency activity in the vicinity of the PC Pro office. This is wireless signals and other devices using the 2.4GHz band.
The article then went on to analyse this:
Look closely and you'll see that, on channel 8, there's a non-Wi-Fi source of interference, represented as three bright stripes in the bottom "waterfall" window: I've not tracked down the culprit yet. To the right, the broad red/green stripe flanked by two narrower vertical green lines shows you the devastation a cheap wireless video sender can wreak.

While this might seem a rather extreme example, I'm sure that many living in densely populated urban centres will be surrounded by a similar level of congestion and interference. Just imagine how many baby monitors, cordless phones and wireless routers there are in a modern, central London block of flats, and you'll get the idea.
So, what's the answer?
Well, the article suggest  that, when next upgrading your wireless router, you go for a dual-band model that gives you the option of connecting to the less congested 5GHz frequency band.
As the image below shows (an analysis of the 5GHz band in the same location), the difference between the 2 bands is quite staggering: